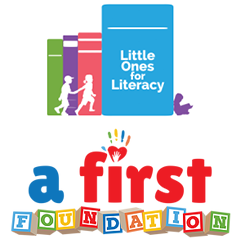 This September, A First Foundation and Little Ones for Literacy will offer enriching, hands-on learning experiences for children ages 16 months through Kindergarten.
Early Childhood Enrichment Programs Held with A First Foundation
For parents or caregivers looking to play an active role in their child's early learning experiences, A First Foundation offers "Toddler Tots" and "Preschool Prep." These unique classes not only strengthen a child's development in language, social/emotional, physical, and cognitive areas, but also provide support for caregivers in becoming a child's first teacher. Highlights of these programs include weekly kid-friendly themes for children to explore early math, literacy, and science concepts; adult discussions that range such topics as child development and early learning, and an end-of-session observational report.
Children ages 2 to 4 can attend A First Foundation's, "Mom's Morning Out" program on Mondays. This gentle introduction to a preschool setting encourages socialization, sensory exploration, and basic early learning skills.
For 4 to 5 year olds, A First Foundation offers "On My Way to K" – a specialized Kindergarten readiness program that meets two days a week. Children in this program gain small-group, individualized support in math and literacy skills that will help them to prepare for success in Kindergarten. Parents participate in several evening Kindergarten workshops throughout the school year.
A First Foundation's 2017-2018 Schedule:
Mom's Morning Out – (age 2 to 4) meets Mondays: 9:30 to 11:30
Parent/Child – (age 16 to 32 months) meets Fridays: 9:30 to 10:45 (ages 2 3⁄4 to age 4) meets Wednesdays: 9:30 to 11:15
Kindergarten Readiness Skills – (PreK students ages 4 to 5) meets Tuesday/Thursdays: 12:15 to 3:00
For more information and to register, please visit:
www.afirstfoundation.com or call 484.367.5074.
Kindergarten Enrichment Programs held with Little Ones for Literacy
For children who attend half day Kindergarten, Little Ones for Literacy offers
a 5 day meaningful, hands-on enrichment program that provides a highly individualized education.
On Mondays, Wednesdays and Fridays classes have a literacy focus and are taught by certified reading specialists. Children gain skills in the areas of phonemic awareness (i.e. rhyming, orally blending and segmenting sounds in words, manipulating sounds in words), alphabet recognition, letter to sound correspondence, sight words, comprehension skills, and handwriting. Through a hands-on approach within a thematic framework, learning is an enjoyable and gratifying experience for students.
On Tuesdays and Thursdays, Kindergarteners engage in a STEM curriculum that encourages and promotes: problem solving, cooperative learning, hands-on, higher level thinking, creativity, and real-world application. Highlights of the Kindergarten enrichment program include a mid-session and end-of-session progress report for each child and a small-group setting with a 1 to 6 teacher-to student ratio.
Little Ones for Literacy's 2017-2018 Schedule:
M/W/F – Literacy Enrichment Focus
T/TH – STEM (science, technology, engineering, math) Focus
All classes meet 9:00 to 11:30 or 12:30 to 3:00 (based on AM or PM Kindergarten school assignments) with the option of adding a half hour lunch bunch (11:30 – 12:00 or 12:00 – 12:30). Children may register for either focus area or attend all 5 days.
For more information and to register, please visit:
http://littleones4literacy.com/enrichment-program/ or call 484.202.0843